The Požega-Slavonia County, green and golden "Vallis Aurea" was mentioned for the first time in 1210 as the Požega County with its seat in the Požega fortress (today the Old Town in the centre of Požega). With an area of 1,823 square kilometres, about 64,420 inhabitants (1.66% of the total population of Croatia), and an average population density of 35.34 inhabitants/km2, Požega-Slavonia County is one of the smallest counties in the Republic of Croatia.
The economic environment of Požega-Slavonia County is based on agriculture and processing industry. The most represented branches of the processing industry are metal processing, wood processing and food industry, while a smaller part are the textile industry and the production and processing of non-metallic mineral products and electrical equipment. The economy of the Požega-Slavonia County is traditionally export-oriented to approximately 30 European and global markets. The tradition of entrepreneurship and craftsmanship as well as the metal processing, textile, wood and food industries give a great opportunity for the further development of the Požega-Slavonia County. The county is also known as an agricultural area, especially for wine production. Furthermore, the wealth of natural resources and raw materials and the long-standing tradition of agricultural production at more than 5,000 family farms and trading companies are also great investment potentials of the Požega-Slavonia County.
In the Požega-Slavonia County, there is a tradition and additional potential for the improvement of freshwater fishing and horse breeding in the western parts of the County. In addition, the preserved environment and natural resources are a potential and motivation for honey production. Rich cultural and historical heritage and preserved nature are potentials for the development of continental tourism, especially by strengthening cultural tourism and cultural and creative industries. These resources are also the potential for more intensive development of other selective forms of tourism, such as hunting, rural, sports tourism, etc. It is important to mention few more examples that have the potential to strengthen the tourist offer and those are numerous villas, manors, castles, Lipik Spa and the State Stud Farm Đakovo – Lipik as many others. In addition, the wealth of mineral raw materials (stone, quartz sand) is certainly a potential for economic development.
Požega-Slavonia County consist of 5 cities (Lipik, Kutjevo, Pakrac, Pleternica, Požega) and has the same number of municipalities (Brestovac, Čaglin, Jakšić, Kaptol, Velika). When we think about Slavonia, continental region in Croatia, the first idea of it is long and flat space. However, Požega-Slavonia County is surrounded with hills and mountains, which the higher parts are mostly covered with forests with the moderate continental climate. On the southern slopes of the mountains and hills are placed world-known vineyards, and the valley is covered with fertile fields. It is important to mention the northern hill Papuk that make different climate on southern slopes and protects the valley from strong northern winds, and the southern slopes have a milder climate than the valley. The county abounds in rich flora and fauna (45% is covered by forests), many thermal springs and river courses, and a rich cultural heritage. Source: Regional Development Coordinator of Pozega-Slavonia County, July 2022
Location
Air distance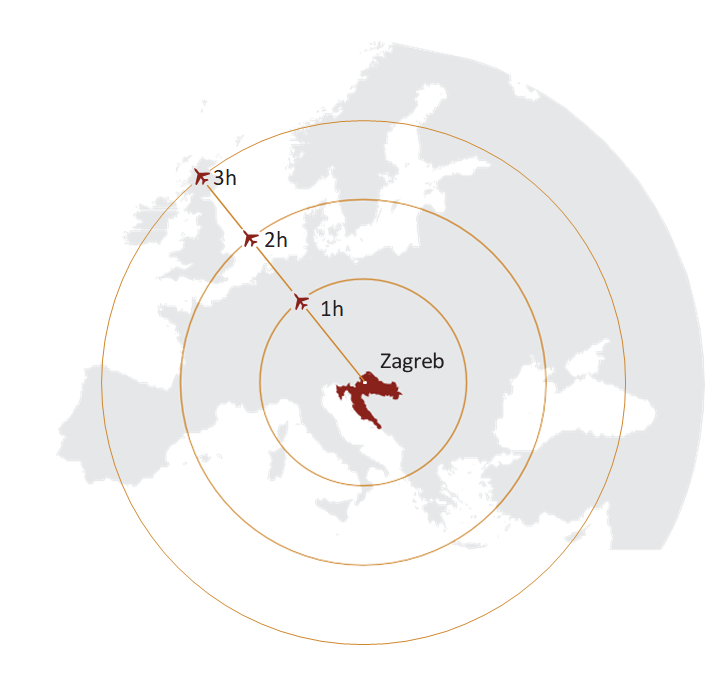 Excellent road infrastructure and rail links ensure that many EU and CEFTA markets can be serviced in 24-hours or less: for example, Budapest (330 km), Vienna (550 km), Munich (730 km). Border with Hungary is 85 km, Serbia 70 km and Bosnia and Herzegovina only 35 km away from the County seat.
Location of Požega-Slavonia County in Republic of Croatia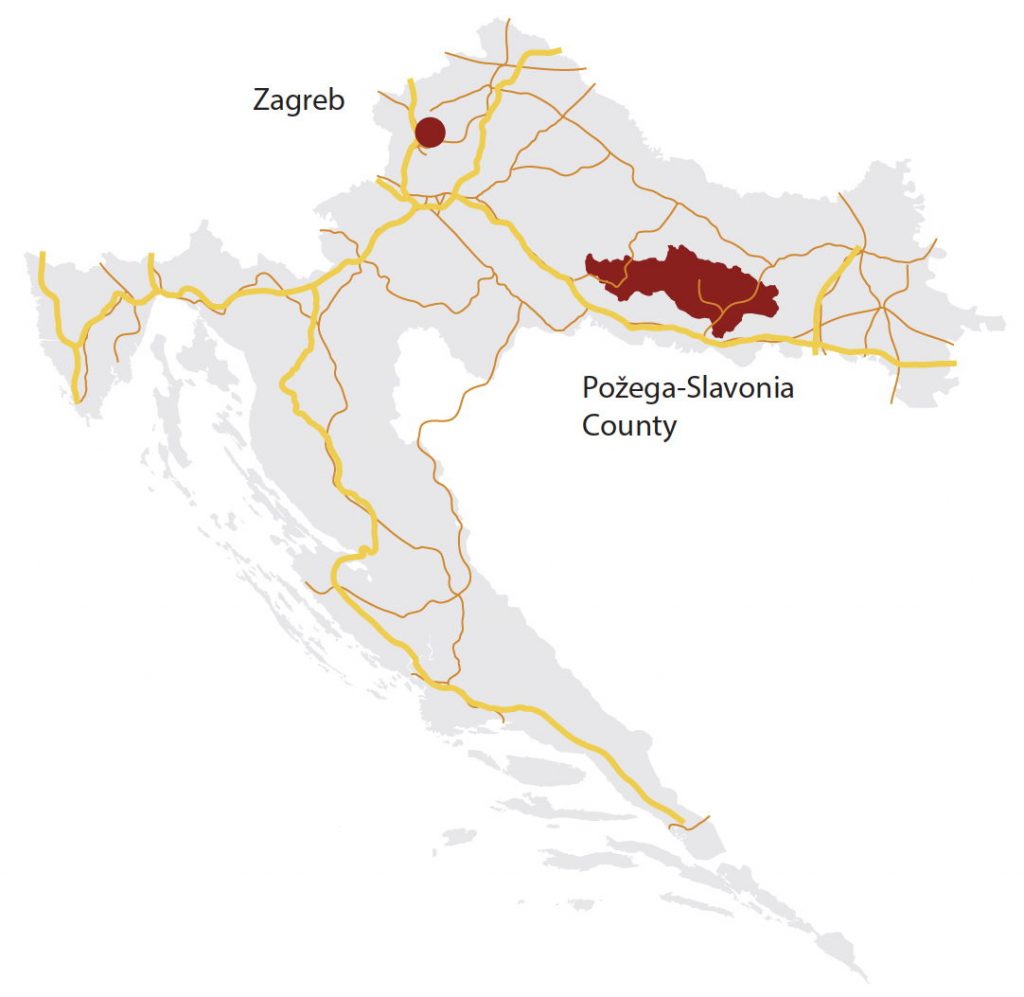 Pan European corridor 10 (Salzburg – Ljubljana – Zagreb – Belgrade – Skopje – Thessaloniki)
International railway route (Munich – Ljubljana – Zagreb – Belgrade – Sofia)
Vicinity of Osijek international airport (120 km) and Zagreb international airport (180 km)
Požega-Slavonia County roads and railroads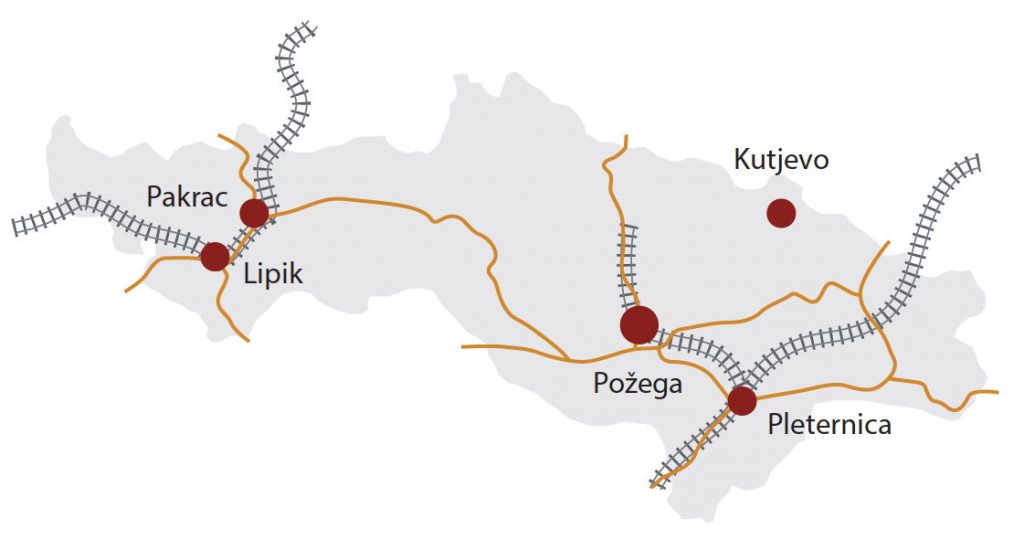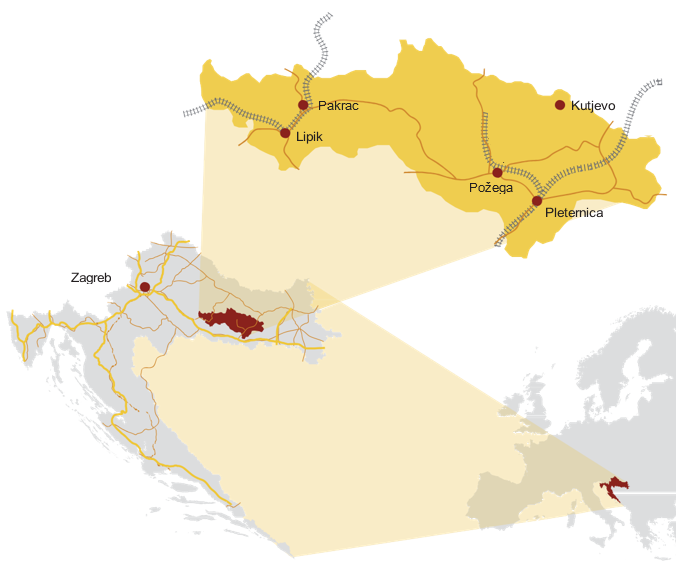 Main Indicators

Educational institutions
The Faculty of Tourism and Rural Development, as a component of Josip Juraj Strossmayer University in Osijek (Social Department: Electronic Business and Software Engineering, Accounting, Trade, Tourism, Administrative Studies, Commercial Business and Agricultural Department: Viticulture-Viniculture-Fruit Farming, Food Technology, Enogastronomy)

Zagreb University of Health – Physiotherapy study in Pakrac

8 independent high schools: Požega Grammar School, Požega Catholic Grammar School, Economics School, Agricultural and Food School, Technical School, Požega Music School, Craft School, Pakrac High School

15 independent home primary schools: Dobriša Cesarića Požega, Julija Kempf Požega, Antun Kanizlića Požega, Dragutina Lermana Brestovac, Ivan Goran Kovačić Velika, Vladimir Nazor Trenkovo, Vilima Korajca Kaptol, Mladost Jakšić, Zdenka Turkovića Kutjevo, Stjepana Radića Čaglin, Fra Kaje Adžića Pleternica , Braće Radić Pakrac, Požega Catholic Elementary School, Grigora Viteza Poljana, Lipik Elementary School
Educational structure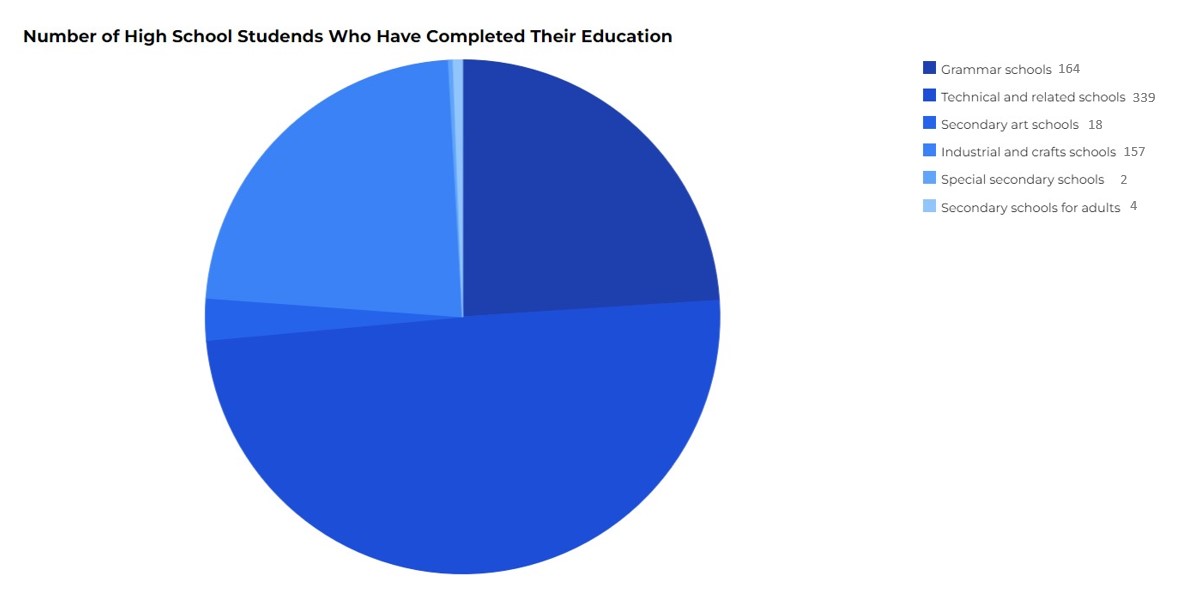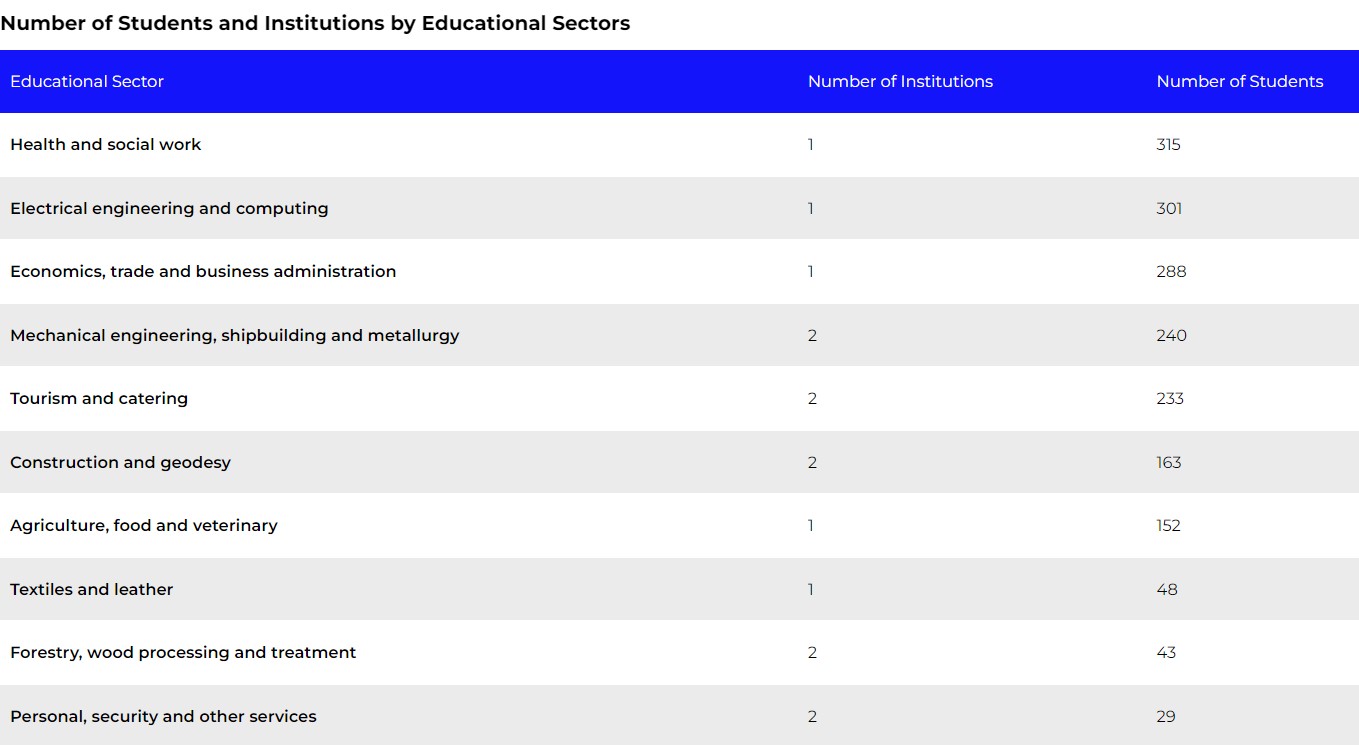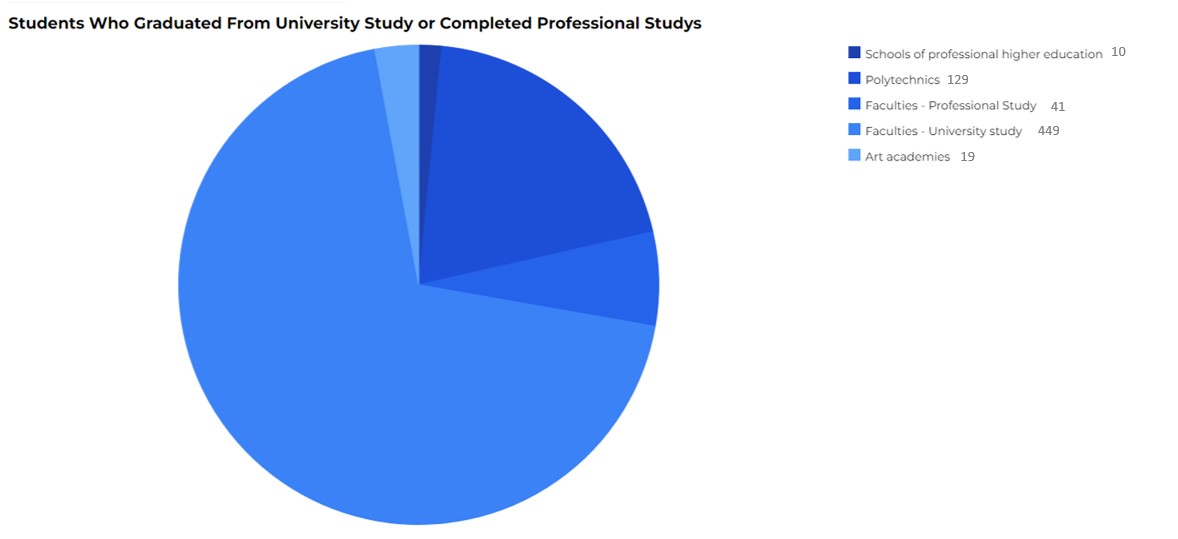 You can find detailed information about the educational structure of Požega-Slavonia County at the link.